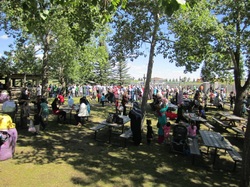 As the Muslim Association of Canada (MAC) is a non profit organization, business sponsorship is integral to the sustainability and continuity of Eid Festivals. Funds are utilized to cover the cost of the event and to expand the range of activities and programs we provide. In addition to publicity and access to a wide range of the Muslim community, sponsors can be provided with the opportunity of a booth at the Festival to promote their business or organization. For more information about us, visit www.maccalgary.ca.
If you are interested to sponsor this year's EidFest, you can download the sponsorship package by clicking here.

For more information on sponsorships, please email us at calgary@maceidfest.com.
The Muslim Association of Canada (MAC) is a religious, educational, social, charitable and non-profit organization. MAC provides programs that encourage community engagement and promote diversity. MAC's programs and services are provided across Canada in every major city. The goal is to establish a sustainable Eid festival program here in Calgary and to always make it bigger and better!
MAC is a grass root organization – it is built on the involvement of families and individuals as we believe volunteers enhance the association in its ability to deliver quality services. General donations funds will be directly used to pay facility rental fees and entertainment expenses, or as directed by the donor. Please note that MAC will issue a tax receipt for all donations.