We would like to invite you to take advantage of a unique business partnership in the 43rd annual Eid Festivals at the CNE.
The Eid Festivals, organized by the Muslim Association of Canada (MAC), attract thousands of families in the GTA every year with its unique community gathering, fun-filled carnival, and its distinguished bazaar.
Building on past partnership success, we would like you to consider our Bazaar for Eid Al Fitr Festival 2018.
Last year's event was met with positive feedback from all bazaar participants. With a spacious 200,000 sq ft area and many fun-filled rides this year's festival will attract thousands of families, youth and children throughout the day. Over fifty small businesses come together to showcase their products and services to the community.
Unique compared to other events, this whole-day event allows for businesses, such as yours, to access thousands of people from different cultural background, social and economic spheres. With more than 15,000 community members attending, it is the perfect marketing opportunity for companies to advertise their products and services.
We would be delighted to see you at the Eid Bazaar this year and for years to come.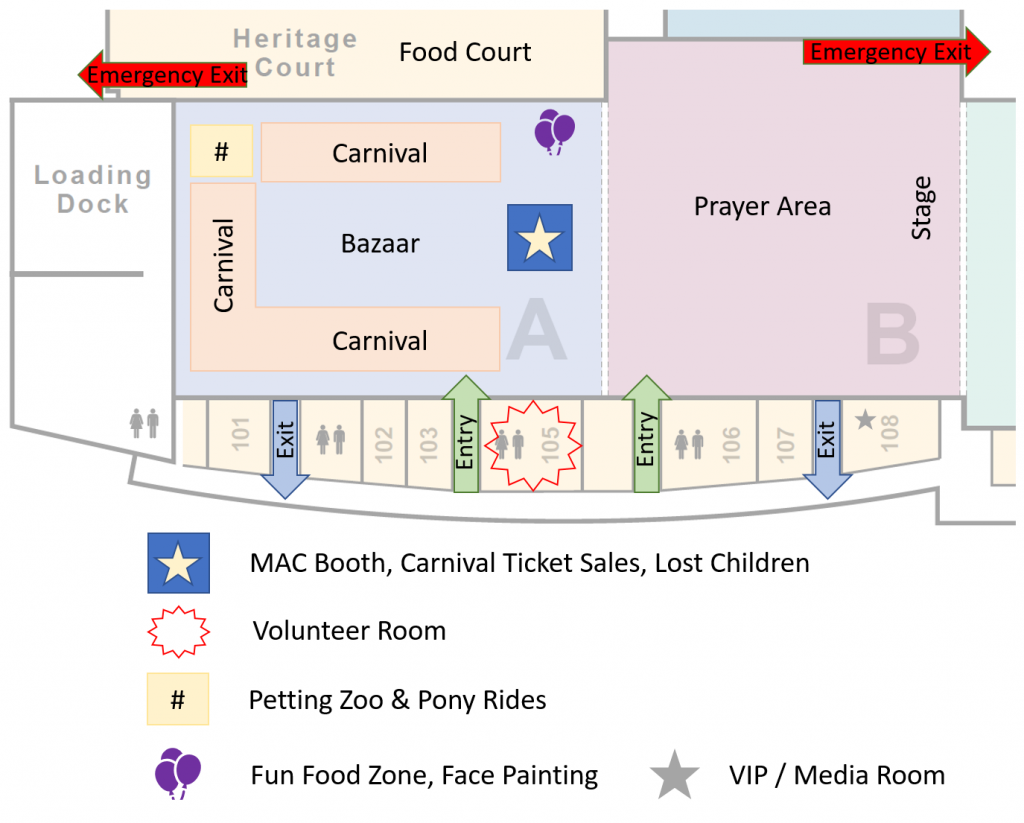 Booth Rules and Regulations
1. No food items cooked or baked, candy, chocolate, or drinks may be sold or distributed, unless prior authorization obtained in writing by the EID organizers.
2. No toy guns, swords, or any other product that resembles a weapon of any type (as deemed by festival organizers) may be sold. We reserve the right to cease sale of products we deem threatening.
3 .No collection of donations for events or organizations is permitted (applies to vendors in bazaar) unless given written permission by event organizers.
4. Vendors are not permitted to display merchandise outside of the designated area of 10 x 10 booth space(s).
5. A booth may not be re-sold to another vendor. Doing so can result in both yourself and the other vendor being excused from the event, without any refund. Sharing of booths is permitted upon internal agreement between vendors upon registration.
6. Vendors are permitted to use racks for displaying their goods. However, the racks must be within the designated area of the booth being rented. Vendors are not permitted to use any table(s) or anything resembling a table for displaying their goods, besides the table(s) provided at the booth.
7. During the move in and move out, only vendor staff are permitted to be in the exhibit hall. For safety and efficiency, no children under the age of 16 are permitted to be in the exhibit hall during these hours.
8. The festival organizers are not responsible for any lost or stolen goods before, during, or after the event. Vendors are expected to begin shutting down and cleaning up their booth between the hours of 8:00pm to 10:00pm. Allocated areas should be cleaned up appropriately or Festival organizers reserve the right to apply any cleaning charges.
9. Vendors are not permitted to claim empty booths without permission of bazaar coordinator or other festival organizer present on site. All requests are not guaranteed approval.
10. The Festival organizers reserve the right of cancellation.